Dakwaan Anwar sama kes 2009 di Perak - Utusan Malaysia (28 Sept 2020)
"Mengulas lanjut, Shahnon menyifatkan pergolakan politik yang berlaku antara Pakatan Harapan (PH) dipimpin Anwar dan Perikatan Nasional (PN) hanya satu bentuk perang saraf" more
-----------------------------
COVID19: Public relies on official information - The Star (14 Sept 2020)
"Senior lecturer of communication and media studies Shahnon Mohamed Salleh said their communication had improved tremendously since the onset of the pandemic in the country." more
-----------------------------
Human rights advocates: Fake news on Wuhan virus needs combatting, but not over-policing - Malay Mail (30 Jan 2020)
"Looking at the trend over the last few years, you can almost see a pattern; that the intensity of fake news and conspiracy theory tend to increase whenever there is a crisis such of MH370, MH17 or a big event like the GE14.
Shahnon suggested that the government, as well as the medical community, take a more proactive role in debunking and refuting rumours surrounding the Wuhan virus.
"The government needs to recognise that rumours and fake news exists and thrives in the absence of real news and facts, so they need to keep the public informed at all times,'' more
-----------------------------
Expect more fake & misleading news ahead of next election - The Mole (17 April 2017)
"UiTM's Shahnon Mohamed Salleh said the public should expect more misleading news as part of a campaign tactic for the election.
"Judging on history, I think it can be quite safe to say so. There have been cases of lies (in the media) like the claims on 40,000 Bangladeshi voters in the last general election and power blackouts," more
-----------------------------
Media expert disagrees pro-establishment overwhelmed in cyberspace - The Mole (23 Jan 2017)
"Social media researcher Shahnon Mohamed Salleh of the Centre of Media and Information Warfare Studies, UiTM told The Mole that the 6.6 percent cited by the research as the portion of cybertroopers who support the government could not be accurate." more
-----------------------------
Laman sosial beri penerangan GST tidak menyerlah - Utusan Malaysia (8 Nov 2016)
"Shahnon Mohamed Salleh berkata, perkembangan media sosial juga menjadi penyumbang kepada peningkatan persepsi negatif terhadap kerajaan di mana media sosial kini telah menjadi platform arus perdana berbanding sekadar media alternatif kepada rakyat" more
-----------------------------
Fact-checkers needed to discourage media spin - The Mole (11 Oct 2016)
"It would be interesting to see the team being formed by the public instead of the government," Shahnon told The Mole. more
-----------------------------
Self-censorship is a must, say media experts - The Mole (20 Feb 2016)
"This 'herd mentality' is nothing new, but with social media, everything is documented, hence it's easy for all to see," he (Shahnon) added. more

-----------------------------
BN needs to step-up its game in cyber warfare subterfuge - The Mole (3 Nov 2015)
...Shahnon Mohamed Salleh of the Centre of Media and Information Warfare Studies reviews local cyber warfare as being rather phenomenal particularly after the 2013 general election (GE13). "It is phenomenal in the sense that it is largely a reflection of our deeply divisive and polarised nation.." more
-----------------------------
"Waning interest in Pakatan on Facebook a sign of disenchantment, observers suggest" - Malay Mail Online (19 March 2015)
..."The decline in interest towards Pakatan is understandable, logical and expected," said Shahnon, whose research focuses on social media and political communications. more
-----------------------------
Daripada 'Sleeping Beauty' Kepada 'Puppet MB': Netizen - mStar
...pemilik akaun yang dikenali sebagai Shahnon Salleh (@shahnonsalleh) menyuarakan pandangan sinis mengenai keputusan Parti Keadilan Rakyat (PKR) itu. more
-----------------------------
World War Wired - Esquire Malaysia (Feb 2014)
..."We're now in the age of information," says Shahnon Salleh, an academician at the Centre for Media and Information Warfare Studies.. "The wars we're fighting are no longer with conventional military warfare. This is a cyber war. It's information warfare." more
-----------------------------
Saluran TV ikut etnik lebarkan lagi polarisasi kaum - Berita Harian (13 September 2012)
..Shahnon berkata ia kerana penonton televisyen biasanya lebih berminat untuk menonton rancangan yang sesuai dengan budaya dan cara hidup masing-masing, sekali gus tidak mendedahkan mereka dengan budaya kaum lain. more
-----------------------------
Tri-Election Post-Mortem- The Edge (8 April 2009)
..Shahnon blames the BN's defeat on their inability to understand young voters as well as what he considers weak leadership which has failed to rein in Umno members . "It's a case of nila setitik, rosak susu sebelanga. And it doesn't help much when the alternative media tend to highlight and sensationalize racial and religious issues." more
US Elections: Of Anti-Establishment Populism and the End of the Political Centre (2 March 2016)
...Traditionally, the presidential nominees of both parties have always - or at least most of the time - been seen as party moderates, but not so anymore. more
-----------------------------
Demassification of Media and Society: Re-Envisioning Toffler (31 October 2013)
...In the same way that communication technology has revolutionised and demassified the society, technology today has brought us far and beyond convergence and beyond Toffler's scope of imagination on the 21st century prosumer. more
-----------------------------
The Malaysian Ideology, Pragmatism, Socialism and Populism (7 Sept 2012)
...Former Prime Minister Tun Dr Mahathir's recent comment saying that Malaysia "has no ideology" has generated a few debates and discussions on the Internet. Of course that statement is debatable. more
-----------------------------
UK Elections 2010 and Lessons for Malaysia? (12 May 2010)
The practice of media freedom in the UK is not just about freedom to oppose or criticise, but also freedom to support whichever party. It is a well accepted tradition that there are pro Labour and pro Tories newspapers. Daily Mirror and The Guardian were known to be pro Labour; while The Times and Daily Telegraph were pro Tories. However, interestingly The Guardian which is traditionally pro Labour, has decided to back the Lib Dems, leaving the Mirror as the only pro Labour British newspaper.. Perhaps, to some extent this explains the election win by the Tories, albeit without a majority. more
-----------------------------
"This is Pure Blasphemy" (6 Sept 2008)
Anyway, this Shahnon fella came for Art For Grabs, and..apparently he sat through the first session on Violence Against Transsexuals. This fella been at Farish Noor's talk in the past and in one of his blogs, showed a photo he took with everyone's favourite liberal historian. But this is what Shahnon said about..Seksualiti Merdeka: more
-----------------------------
Netanyahu's version of a Palestinian state (5 July 2009)
Funny that of all things, the Israeli PM has to mention flag and anthem first while ignoring the basic and fundamental attributes of a state: sovereignty, territory, authority and population. A future Palestinian state is not fit to be recognised as a "state" IF it does not fulfill the basic attributes of a state as above. A free and independent state of Palestine must have full control and sovereignty over its territories of West Bank and Gaza, and most important of all, the right of self-determination. more
-----------------------------
Occupied Palestine and Israel (19 Jan 2009)
The question that should be asked to Israeli and American political leaders is not whether Hamas or the Palestinian leadership support the establishment of Israel, BUT whether they support the existence of a sovereign and independent Palestinian state? more
-----------------------------
Of Freedom of Speech and Hate Speech (18 July 2009)
An interesting question we ought to ask is, if the Holocaust is considered as the Western democracy's Achilles heel, what then is the Achilles heel for Asian democracies? more
Democratic Participation and the Malaysian Blogosphere (18 Nov 2009)
The essences of democracy comprises of freedom of political expression, freedom of speech and freedom of the press. These attributes are essentially important elements for a democratic society to flourish. From the era of Napoleon Bonaparte, who famously stated, "Four hostile newspapers are more to be feared than a thousand bayonets" (1804-14) in 19th century to the modern 21st century, the media have well been recognized as a strong political power, because of its strength and ability to influence the beliefs and perceptions of the populations. more
-----------------------------
Muslims in Norway (7 May 2010)
Historically, Eggen revealed that the interaction between the Norwegian and the Muslim world started as early as in the 13th century, when an envoy from a Muslim sultanate in the Middle East was sent to Norway. She also relates another occasion when the King of Sweden, King Karl XII was given refuge in Istanbul by Sultan Ahmed III (Ottoman Sultan), after losing a battle against the Russians. As a result of Karl XII's long stay in Ottoman land, he has brought along or rather introduced new beverages such as coffee into the Scandinavian lands. more

BOOK - Revisiting Moïsi's "The Geopolitics of Emotion" (11 July 2016)
To Moïsi, the three major global civilisations are represented by three important emotions; West; America and Europe (fear), Islamic (humiliation) and, India, China, East Asia and Africa (hope).
It is grossly insufficient to only be focusing on Trump's racism and his personality alone without understanding the appeal behind Trump-ism and the ideology of fear in America. Likewise in Europe and in the UK, the sense of fear is sweeping across the continent. more
-----------------------------
JOURNAL - Nazi Propaganda and the Volksgemeinschaft: Constructing a People's Community - David Welch (A 2008 article, republished in October 2013)
Propaganda, according to the Nazi is about confirming public opinion rather than converting them. This has proved to be very instrumental in mobilising support to the Nazi regime. To ensure that the Nazi's propaganda aim is successful, Goebbels constantly gauges the public mood. The SD or the Nazi Secret Police played an instrumental role in providing a detailed report about the mood of the people. more
-----------------------------
BOOK - "Palestine: Peace Not Apartheid" - Jimmy Carter (12 June 2008)


The US policy is actually clear on the Palestinian-Israel issue, that the Israeli settlements in the occupied territories of West Bank and Gaza are "illegal and obstacles to peace", but question now is, do they have the political will to take any action? more
-----------------------------
THEATRE - Revolusi '48 (Malayan Revolution) (29 Oct 2008)
Revolusi 48 is not just an anti-British revolution, but it was in fact a pro Communist revolution, albeit a failed one. This was obliquely referenced in 'Revolusi 48'. The Malayan revolution in 1948 was also an attempt to turn Malaya into a Communist republic, which didn't go down well with the majority of the population. This could also be the reason why the attempted revolution by the lefties failed. more
-----------------------------
THEATRE - Tuah dan Jebat dalam "Wangi Jadi Saksi" (30 July 2006)
..dan yang terpenting sekali, (Dang) Wangi jadi saksi atas semua tragedi yang berlaku di istana. Wangi menjadi saksi kepada konflik terpenting bangsa Melayu zaman itu. Wangi juga menjadi saksi kepada dua pemikiran Melayu yang berbeza oleh dua pahlawan agung yang melibatkan hal setia dan kesetiaan, adil dan keadilan. more
-----------------------------
TRAVEL - Lapu-Lapu, Magellan & Panglima Awang (20 Jun 2006)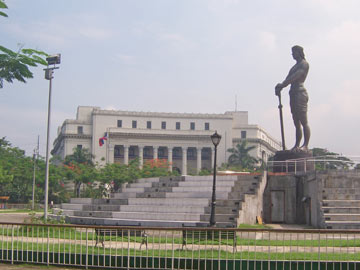 Sejarah bangsa Melayu menentang penjajah di Filipina subur diabadikan di monumen ini. Lapu-Lapu telah tercatat dalam sejarah Filipina sebagai wira negara pertama. Beliau adalah pemimpin Islam dari kepulauan Visaya (Filipina tengah) dan juga orang Asia pertama yang menentang penjajahan Barat (Sepanyol) pada awal kurun ke-16.. more